Published: 20/05/2021
By Jane Price
The following figures are part of a monthly series published by the Insolvency Services to supplement quarterly National Statistics, with the aim of providing more up to date information as COVID-19 continues.
Figure 1: Overall, numbers of registered company insolvencies have remained lower than pre-pandemic levels since the start of the first UK lockdown in March 2020
England and Wales, April 2019 to April 2021, Not seasonally adjusted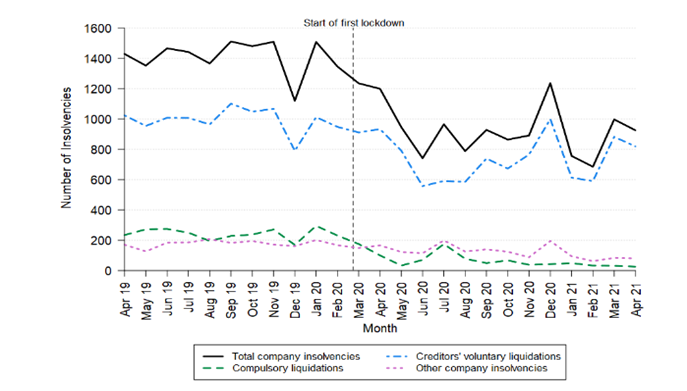 There were 925 registered company insolvencies in April 2021
23% lower than the number registered in the same month in the previous year (1,199 in April 2020), and
35% lower than the number registered two years previously (1,429 in April 2019).
These figures are made up as follows:
Company Voluntary Liquidations
= 819 (12% lower than 2020 and 20% lower than 2019)
Compulsory liquidations
= 26 (74% lower than 2020 and 89% lower than 2019)
Administrations
= 75 (48% lower than both 2020 and 2019)
Company Voluntary Arrangements
= 5 (76% lower than 2020 and 81% lower than 2019)
Detailed figures and information of monthly company insolvency data for England & Wales can be found at the Insolvency Service
here
Could a Moratorium give you the necessary breathing space to save your business? Find out
here
.
Insolvency Procedures explained?
Company Voluntary Liquidation (CVL)

Compulsory Liquidations or winding up by the court
Company Voluntary Arrangement (CVA)
Company Administration