Insolvency Practitioners providing expert turnaround & insolvency advice
t
urpin barker armstrong are a firm of licensed insolvency practitioners based in Sutton and West Byfleet, offering clear debt advice and professional insolvency services to both businesses and individuals throughout London, Surrey, the South East and the whole of the UK.
We offer bespoke solutions to our clients' financial problems in a professional, confidential and sensitive manner. As insolvency advisors we always look to the positives trying to save businesses through
turnaround & restructuring
,
Company Voluntary Arrangements (CVA)
and
Individual Voluntary Arrangements (IVA)
. If these are not possible our services include
Administration
,
Liquidation
and acting as
LPA Receivers
.
We can also help the entrepreneur retire from his business by way of a
Members Voluntary Liquidation (MVL)
. This service may also be used when the business has completed its life cycle, or maybe you just need help striking off the company.
FREE DIRECT ACCESS TO OUR LICENSED INSOLVENCY PRACTITIONERS ON 020 8661 7878 OR CLICK
HERE
TO REQUEST A FREE CALL AT A TIME
CONVENIENT
FOR YOU
A company is considered to be insolvent under UK law if it is unable to pay its debts as they fall due or if liabilities exceed assets. Why not take our business insolvency test to see what options may be available to you or download our services brochure to see all the insolvency service we offer advice in.
Free Insolvency Advice
Whatever situation you or your company may be in, we are confident that one of our insolvency practitioners would have dealt with it before. To get some free insolvency advice, to discuss how we might be able to help you or your business don't delay and get in touch today.

We are happy to answer any questions no matter how small and find that seeking early advice can often be beneficial.

All our insolvency practitioners are regulated and licensed to provide corporate insolvency and personal insolvency services by the Institute of Chartered Accountants in England and Wales (ICAEW).

Contact us here or call us on 020 8661 7878


For information on our fees, publications, links and downloads click
here
Monthly UK insolvency statistics – September 2021
The following figures are part of a monthly series published by the Insolvency Services to supplement quarterly National Statistics, with the aim of providing more up to date information as we rebuild from the effects of COVID-19.
During the pandemic overall numbers of company and individual insolvencies were low however CVL numbers are now at their highest and resemble what it was like pre-pandemic. The numbers for other insolvency procedures still remain lower however this is likely to be partly driven by government measures that were put in place to support businesses and individuals during the pandemic which are now coming to an end or have already ended.
England and Wales, September 2020 to September 2021, Not seasonally adjusted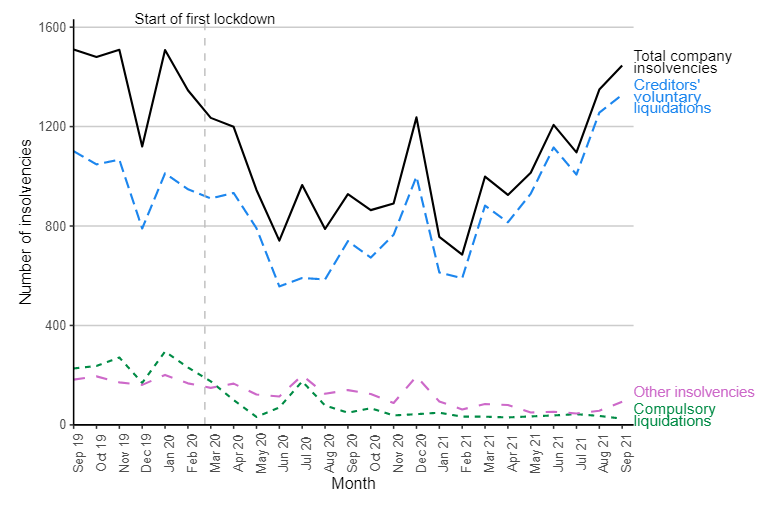 There were 1,446 registered company insolvencies in September 2021 in England & Wales
56% higher than the number registered in the same month in the previous year (928 in September 2020)
4% lower than the number registered two years previously (1,510 in September 2019).
These figures are made up as follows:
Creditors Voluntary Liquidations
= 1,328 (80% higher than in September 2020 and 21% higher than September 2019)
Compulsory liquidations
= 25 (49% lower than 2020 and 89% lower than 2019)
Administrations
= 81 (26% lower than 2020 and 45% lower than 2019)
Company Voluntary Arrangements
= 12 (61% lower than 2020 and 45% lower than 2019)
Detailed figures and information of monthly company insolvency data for England & Wales can be found at the Insolvency Service
here
Could a Moratorium give you the necessary breathing space to save your business? Find out
here
.
Insolvency Procedures explained - click each link below:
Company Voluntary Liquidation (CVL)

Compulsory Liquidations or winding up by the court
Company Voluntary Arrangement (CVA)
Company Administration