Published: 19/07/2021
By Jane Price
The following figures are part of a monthly series published by the Insolvency Services to supplement quarterly National Statistics, with the aim of providing more up to date information as COVID-19 continues.
Figure 1: Overall, since the start of the first UK lockdown the number of registered company insolvencies have remained lower than pre-pandemic levels, due to the lower number of compulsory liquidations however CVL's are now reaching similar levels to pre-pandemic times.
England and Wales, June 2019 to June 2021, Not seasonally adjusted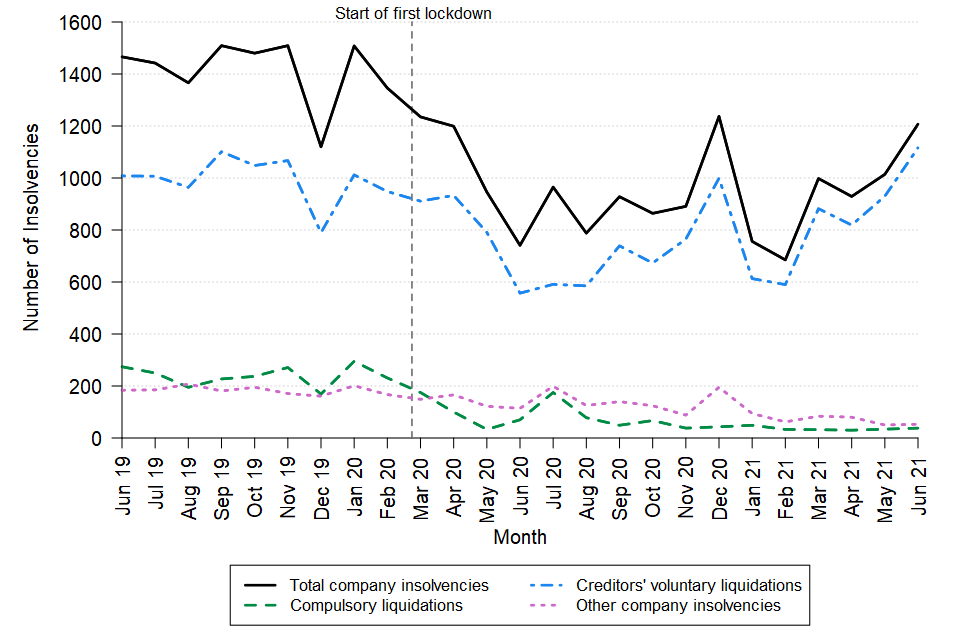 There were 1,207 registered company insolvencies registered in June 2021 in England & Wales.
63% higher than the number registered in the same month in the previous year (741 in June 2020), and
18% lower than the number registered two years previously (1,466 in June 2019).
These figures are made up as follows:
Creditors Voluntary Liquidations
= 1,116 (similar to pre-pandemic levels twice the amount in June 2020 and 11% higher than June 2019)
Compulsory liquidations
= 38 (46% lower than 2020 and 86% lower than 2019)
Administrations
= 39 (61% lower than 2020 and 74% lower than 2019)
Company Voluntary Arrangements
= 14 (same as June 2020 but 60% lower than 2019)
Detailed figures and information of monthly company insolvency data for England & Wales can be found at the Insolvency Service
here
Could a Moratorium give you the necessary breathing space to save your business? Find out
here
.
Insolvency Procedures explained?
Company Voluntary Liquidation (CVL)

Compulsory Liquidations or winding up by the court
Company Voluntary Arrangement (CVA)
Company Administration