Published: 23/11/2021
By Hannah McCormack
The following figures are part of a monthly series published by the Insolvency Service to supplement quarterly National Statistics, with the aim of providing more up to date information as we move into a new norm after the effects of COVID-19.
During the pandemic overall numbers of company and individual insolvencies were low however CVL numbers are now at their highest and resemble what it was like pre-pandemic. The numbers for other insolvency procedures still remain lower however this is likely to be partly driven by government measures that were put in place to support businesses and individuals during the pandemic which are now coming to an end or have already ended.
England and Wales, September 2020 to October 2021, Not seasonally adjusted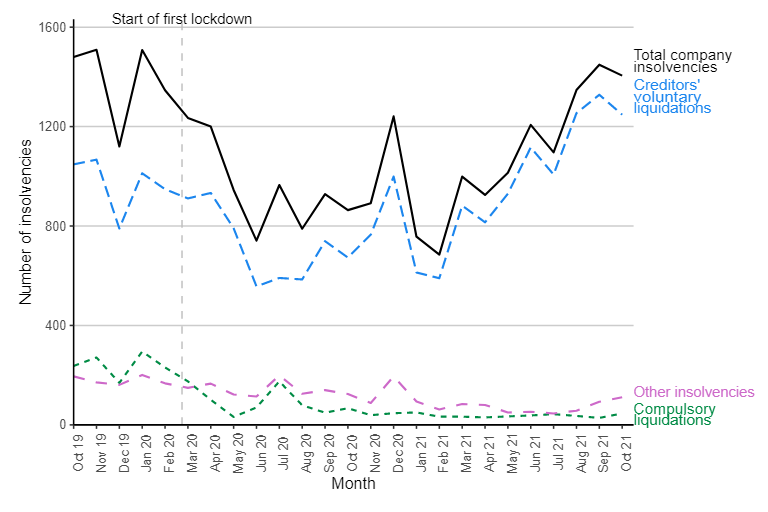 There were 1,405 registered company insolvencies in October 2021 in England & Wales
63% higher than the number registered in the same month in the previous year (864 in October 2020)
5% lower than the number registered two years previously (1,480 in September 2019).
These figures are made up as follows:
Creditors Voluntary Liquidations
= 1,248 (85% higher than in October 2020 and 19% higher than in 2019)
Compulsory liquidations
= 46 (31% lower than October 2020 and 81% lower than 2019)
Administrations
= 95 (8% lower than 2020 and 40% lower than 2019)
Company Voluntary Arrangements
= 16 (24% lower than 2020 and 56% lower than 2019)
Moratorium
= 15 between June 2020 & October 2021
Detailed figures and information of monthly company insolvency data for England & Wales can be found at the Insolvency Service
here
Could a Moratorium give you the necessary breathing space to save your business? Find out
here
.
Want to know more about each Insolvency Procedure listed above? click each link below for our insolvency advice pages:


Company Voluntary Liquidation (CVL)

Compulsory Liquidations or winding up by the court
Company Voluntary Arrangement (CVA)
Company Administration